First made by Thomas Frye in 1748, and later perfected by Josiah Spode sometime between 1789 and 1793, bone china, a type of soft paste porcelain, quickly became highly popular. This lead to it being produced by other English pottery manufacturers.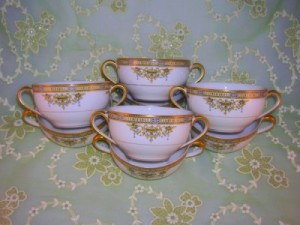 Made from a formula of 6 parts bone ash, 4 parts china stone and 3.5 parts china clay, this remains the base for all bone china today. Bone china is known for it's high levels of whiteness and translucence, mechanical strength and chip resistance.
From its development to the latter part of the twentieth century, bone china was almost exclusively an English product. Most of the major English potters used it, including Minton, Wedgwood and Coalport, among others.
The Japanese also have a long history with porcelain. Nippon, meaning Japan, was marked on wares either made or sold by the Morimura brothers. This company was the forerunner of Noritake, with the first back stamp using this name dating in 1904 for use in Japan. The first reported items registered for export to the US using the typical "M" (for Morimura) in a wreath and the words "Hand Painted"  were not made until 1911, with the mark being used from 1914 up to 1940.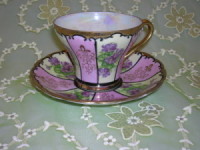 No matter where it originates from, china remains very collectible today, and continues to grace the tables of both old and new admirers. To view the many pieces we have for sale, please click on the link below
Porcelain, Bone China, & Collectibles
If you are looking for a specific item, please click on the Product Request button, and we will be on the lookout for your item! If we find it, we'll send you an email. This is a free service, with no obligation to buy!